Did CBS News Stage a 'Fake Testing Line' at a Michigan Hospital?
Some staging might have happened but there is no evidence that CBS was involved.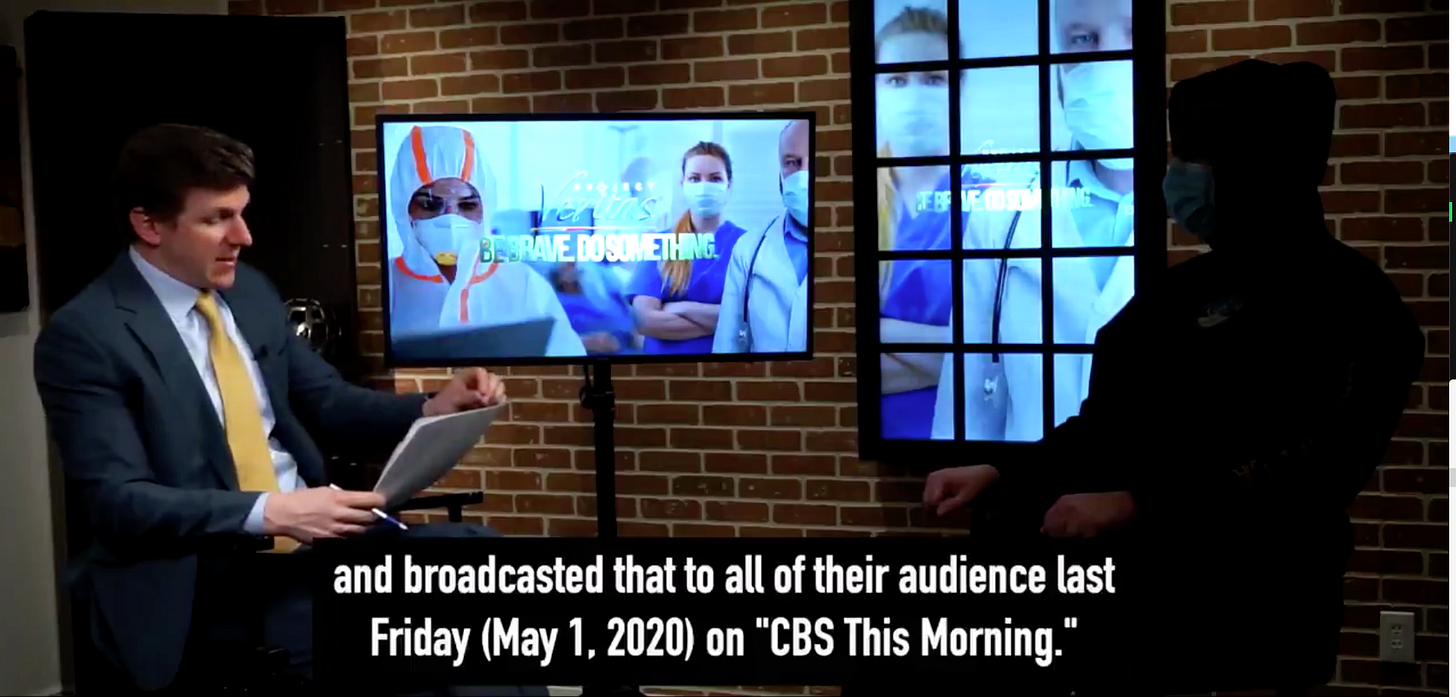 Right-wing activist group Project Veritas published an article Wednesday that claimed "A CBS News crew pulled medical professionals off the floor at the Cherry Medical Center in Grand Rapids, Michigan, to line up in their vehicles so a CBS film crew would have a long line for their COVID-19 coverage." The story quickly went viral on Twitter.
It was also picked up by outlets including the Wall Street Journal, The Daily Beast, and entertainment news website Deadline.
In a video that accompanies the Project Veritas article, Project Veritas founder James O'Keefe states: "An insider has come to us from a Grand Rapids medical center and they claim that CBS News created a fake COVID testing line, taking away doctors and medical personnel away (sic) from treating patients just to create a fake, staged event just for CBS news and their national morning show."
CBS issued a statement in response, denying its news crew had any part in orchestrating the line and placing the blame on Cherry Health:
"CBS News did not stage anything at the Cherry Health facility. Any suggestion to the contrary is 100% false. These allegations are alarming. We reached out to Cherry Health to address them immediately. They informed us for the first time that one of their chief officers told at least one staffer to get in the testing line along with real patients. No one from CBS News had any knowledge of this before tonight. They also said that their actions did not prevent any actual patients from being tested. We take the accuracy of our reporting very seriously and we are removing the Cherry Health portion from the piece."
The statement was included in the original article, published on May 6, but was framed as a "BREAKING" update by O'Keefe, who claimed the statement came "in response" to the article. The article specifically about CBS' statement on Project Veritas' website notes that the statement was delivered to Project Veritas on May 5, a day before publication.
The insider's identity and role at the facility were not revealed by Project Veritas, but in his interview with O'Keefe, the insider reveals that he grew suspicious after witnessing the alleged staging, but had no direct knowledge of who was responsible. Only one person in the hidden footage mentions CBS, saying "apparently the news crew wanted more people in the line." The basis for this claim is never explored and other employees of Cherry Health were caught on camera putting the blame not on CBS but on Cherry Health's director of quality and information. 
A representative from CBS reiterated the statement provided to Project Veritas when contacted by The Dispatch Fact Check. In a statement provided to The Dispatch Fact Check by a representative of Cherry Health Medical Center via email, Cherry Health CEO Tasha Blackman concurred that, to her knowledge, "CBS This Morning did not stage any part of their visit to our site." Blackman also denied that she had instructed staff to get into the line, but when asked if that was true of other members of Cherry Health's leadership team as well, Blackman stated:
"I was not aware of any staging that took place. Cherry Health has had a process of pre-screening individuals for COVID-19 testing. On the day of the CBS interview we had 34 prescreened individuals that came for testing. I was not asked for help on any staging, nor was I aware that any staging activities were going on. The only requests we had were tied to the number of patients being tested that day and the PPE supply that we had in place."
It seems some staging took place at Cherry Health during filming for the CBS news segment, but given the statements by the parties involved and O'Keefe's history of misleadingly editing videos, Project Veritas' presentation of events deserves a healthy dose of skepticism.
If you have a claim you would like to see us fact check, please send us an email at factcheck@thedispatch.com. If you would like to suggest a correction to this piece or any other Dispatch article, please email corrections@thedispatch.com.