Did Dr. Fauci, Melinda Gates, and Barack Obama Visit a Wuhan Lab in 2015?
No.
A viral Facebook post from singer Ted Nugent claimed to show Dr. Anthony Fauci, Melinda Gates, and President Barack Obama at a research lab in Wuhan, China, in 2015. The post further alleges that the Obama administration "paid the lab $3.7 million for a 'bat' project."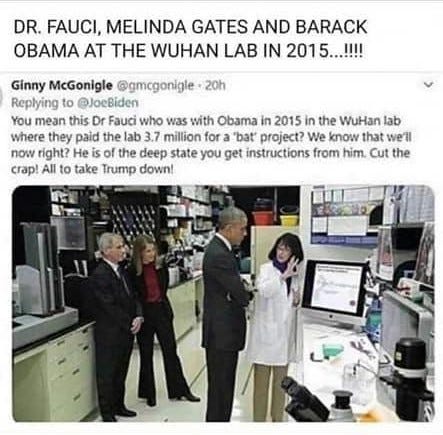 The photograph was not actually taken at a lab in Wuhan—it came from a trip Obama took to the National Institutes of Health Vaccine Research Center, in Bethesda, Maryland, in 2014 to meet with scientists working on combating the Ebola virus. The photo shows Obama talking to Dr. Nancy Sullivan of NIH's National Institute of Allergy and Infectious Diseases, while Fauci and then-Secretary of Health and Human Services Sylvia Burwell—not Melinda Gates—stand nearby.
What's more, the Wuhan laboratory in question—the Wuhan Institute of Virology—never received a $3.7 million grant from the United States. This claim has been debunked in the past by other fact-checking organizations, who noted that a non-governmental research group called the EcoHealth Alliance received a five-year grant in 2014 for research into "the risk of bat coronavirus emergence." During that time, EcoHealth received approximately $3.7 million, of which about $600,000 went to the Wuhan Institute of Virology, Robert Kessler, a spokesman for EcoHealth Alliance, toldUSA Today. a Trump renewed EcoHealth's grant 2019, but then decided to pull funding for the group earlier this year.