Did House Democrats "Choose Not To" Call High-Level Trump Administration Officials in Their Impeachment Inquiry?
It's not that simple.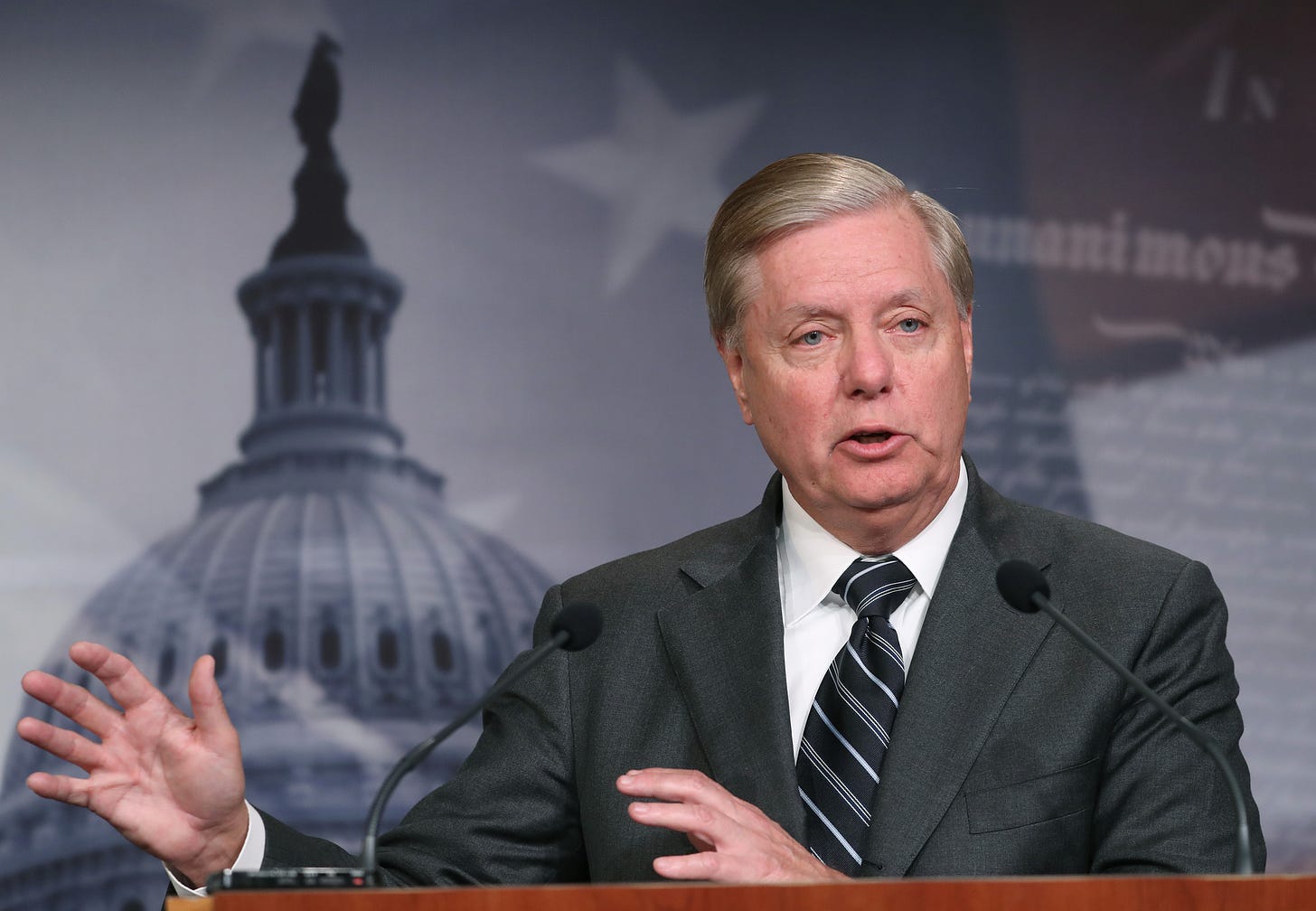 Speaking with Fox News' Chris Wallace on Sunday, Sen. Lindsey Graham argued against calling additional witnesses to testify in the upcoming Senate trial over President Trump's impeachment. "I'm going to vote against calling the four witnesses requested by Senator Schumer," Graham said. "They're all covered by executive privilege. They're part of the national security team of the president. They could have been called in the House. They chose not to. Apparently they don't need them to make their case."
Graham made a similar point about Mike Pompeo, Russell Vought, Mick Mulvaney, and John Bolton earlier in the interview, saying "all of these witnesses were available to the House."
But were they? It's complicated.
On October 4, Reps. Adam Schiff, Eliot Engel, and the late Elijah Cummings issued a subpoena to Mick Mulvaney compelling him to turn over documents related to the ongoing impeachment inquiry. Trump's acting chief of staff refused to comply. On November 5, Reps. Eliot Engel, Adam Schiff, and Carolyn Maloney formally requested he appear before their respective committees on November 8 to testify. Mulvaney did not show up, with his lawyers saying Mulvaney would "rely on the direction of the president … in not appearing for the relevant deposition."
On October 25, Engel, Schiff, and Maloney subpoenaed Russell Vought, acting director of the Office of Management and Budget, to appear at a deposition in early November. Vought had declined to voluntarily show up before the committees earlier in October, citing an October 8 letter from White House counsel Pat Cipollone decrying the entire impeachment procedure. Vought defied the subpoenas as well.
The House Intelligence and Judiciary committees subpoenaed Deputy National Security Advisor Charles Kupperman to appear before them as part of the impeachment inquiry, only for the White House to invoke "constitutional immunity" in blocking him. Unsure what to do, Kupperman filed a lawsuit asking a judge to determine whether the legislative or executive branch's desires should prevail. Former National Security Advisor John Bolton did not show up for his scheduled voluntary testimony, but signaled he would also abide by the judge's decision in the case brought by Kupperman, who had been his deputy. Rather than face a lengthy court battle, however, House Democrats withdrew their subpoena of Kupperman and never issued one to Bolton, leading a judge to dismiss the case in late December. (A similar case involving former White House counsel Don McGahn remains ongoing.)
House Democrats never asked Secretary of State Mike Pompeo to testify in the impeachment inquiry, but they did issue a subpoena to him demanding the State Department produce materials relevant to the impeachment inquiry. Pompeo did not take too kindly to what he deemed "intimidation" and "bullying" from the legislative branch, writing back, "I will not tolerate such tactics, and I will use all means at my disposal to prevent and expose any attempts to intimidate the dedicated professionals whom I am proud to lead and serve alongside at the Department of State." Several State Department employees—Kurt Volker, Marie Yovanovitch, George Kent, David Holmes, William Taylor, Gordon Sondland—ended up testifying in the impeachment inquiry anyways.
Given all of this, the truthfulness of Graham's claim—that House Democrats "chose not to" call top impeachment witnesses—varies from official to official. (We told you it was complicated.)
The senator from South Carolina would be correct in saying Democrats "chose not to" seek testimony from Mike Pompeo. But they did make an effort to hear from Mulvaney, Vought, Kupperman, and Bolton—the Trump White House invoked executive privilege and constitutional immunity to block them from testifying. (Jonah Goldberg has a piece exploring the history of executive privilege and how it pertains to impeachment here.)
That being said, House Democrats certainly could have fought harder to extract testimony from the White House. Because the 2020 election is less than a year away, Speaker Nancy Pelosi opted to prioritize the speed of the impeachment process over its thoroughness; had she been willing to wait, a federal judge very well might have determined Kupperman and Bolton were obliged to testify. 
But the White House would almost assuredly have challenged such a ruling, extending the inquiry well into the summer or beyond. So while Graham can argue the House should have slowed down and pursued additional legal channels to capture all relevant information, House Democrats can argue the Trump administration's stonewalling, so close to an election, made that option untenable.
Photograph of Lindsey Graham by Mark Wilson/Getty Images.
If you have a claim you would like to see us fact check, please send us an email at factcheck@thedispatch.com. If you would like to suggest a correction to this piece or any other Dispatch article, please email corrections@thedispatch.com