Did Joe Biden Abuse His Power as Vice President to Shield His Son From Legal Scrutiny?
No.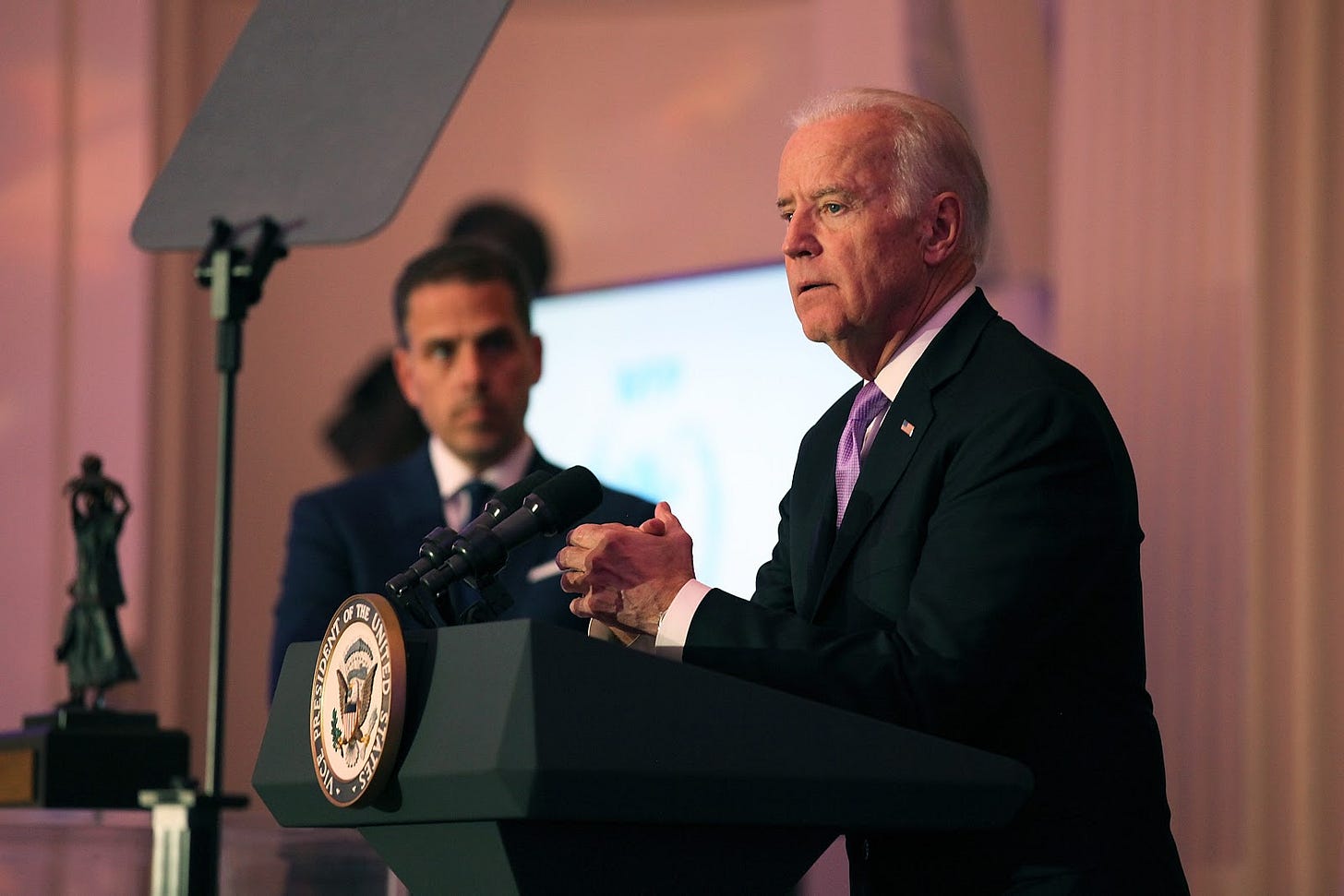 In the lead-up to the Iowa caucuses on Monday, Sen. Rick Scott of Florida is running a television ad targeting Democratic frontrunner Joe Biden in the Des Moines media market.
Introducing himself over a dramatic piano riff as "one of the jurors in the U.S. Senate," Scott argues the "real story" of the impeachment trial is "the corruption Joe Biden got away with."
"Vice President Biden threatened a foreign country," Scott continues, "and forced them to fire a prosecutor who was investigating a company paying his son $83,000 a month."
Scott is far from the only Republican to make this claim. Sen. Ted Cruz argued last month that as vice president, Biden "bragged publicly about withholding $1 billion in aid until Ukraine fired the prosecutor investigating Burisma, the company paying his son $1mm/yr." Pam Bondi, a member of President Trump's impeachment team, made a similar case during the trial this week. The White House itself promoted a video of Joe Biden speaking at a Council on Foreign Relations event in 2018, saying the former vice president "threatened to withhold aid to Ukraine unless a prosecutor was fired."
So is it true? Did Vice President Biden "threaten to withhold aid to Ukraine unless a prosecutor was fired?"
Yes, but not in the insidious manner Scott, Cruz, and the White House are hinting at. 
The clip these Republicans reference shows Biden recalling a time when he, at the direction of the White House, threatened to withhold $1 billion in loan guarantees from Ukraine unless then-President Petro Poroshenko would "take action" against a state prosecutor, Viktor Shokin. "I said, 'we're leaving in six hours,'" Biden recounted of his meeting with Poroshenko. "'If the prosecutor's not fired, you're not getting the money.' Well son of a bitch, he got fired! And they put in place someone who was solid."
Because that prosecutor, Viktor Shokin, was supposed to be investigating a handful of corruption cases, including one involving Burisma Holdings—a Ukrainian energy company on whose board Vice President Biden's son Hunter sat—the aforementioned Republicans are trying to make the case that the elder Biden used his post to intervene and protect his kid from criminal exposure.
But in reality, the Obama White House, with the support of many Western nations, pressured Ukraine to remove Shokin because he was failing to investigate corruption, not because he was looking into Burisma. Vitaliy Kasko, Shokin's former deputy, told Bloomberg News last May that any investigations into Burisma's owner Mykola Zlochevsky were "shelved by Ukrainian prosecutors in 2014 and through 2015," well before Vice President Biden put the squeeze on Poroshenko in early 2016. "There was no pressure from anyone from the U.S. to close cases against Zlochevsky," Kasko added.
Republicans in Congress didn't make a stink about this move at the time. In fact, in February 2016, with concerns of Shokin's own corruption growing, several Republicans signed a letter encouraging further "reforms" to the Ukrainian prosecutor general's office. "We similarly urge you to press ahead with urgent reforms to the Prosecutor General's office and judiciary," a bipartisan letter to Poroshenko from Sens. Portman, Durbin, Shaheen, Johnson, Kirk, Blumenthal, Murphy, and Brown read.
Hunter Biden getting a cushy job on the board of Burisma—despite having little to no experience in the energy industry—is certainly an example of nepotism at its worst. But based on publicly available evidence, claims that Joe Biden abused his power as vice president to shield his son from scrutiny are misleading.
Photo of Hunter Biden and Vice President Joe Biden by Teresa Kroeger/Getty Images for World Food Program USA.
If you have a claim you would like to see us fact check, please send us an email at factcheck@thedispatch.com. If you would like to suggest a correction to this piece or any other Dispatch article, please email corrections@thedispatch.com