Did Mike Pence Carry Empty Boxes of PPE Into a Facility as a Publicity Stunt?
A Jimmy Kimmel segment was edited to leave out important context.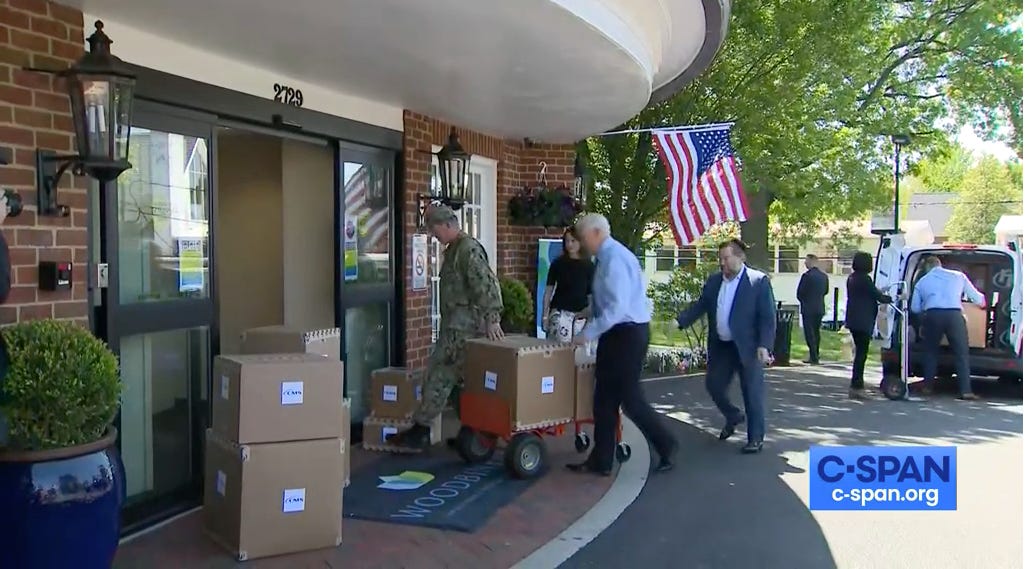 During the monologue of his show Thursday night, Jimmy Kimmel shared a clip of Vice President Mike Pence at Woodbine Rehabilitation and Healthcare Center in Alexandria, Virginia, earlier that day. In the video, the vice president assists in unloading personal protective equipment from a truck and upon being told that they were finished aside from a few empty boxes, Pence asks: "Well can I carry the empty ones? Just for the camera?"
The segment went viral on Twitter, with even prominent figures like NBC's Andrea Mitchell and Rep. Bill Pascrell, Jr. sharing the video:
Kimmel's segment, however, was edited to leave out important context; namely that Pence appears to be joking. The full interaction can be viewed on CSPAN's website (at approximately the 9:05 mark), and shows the vice president and those he's talking to laughing after he asks the question. Pence then closed the van's doors and walked away to thank some workers and give remarks. Here is the relevant portion, in a video posted by PBS.
Based on the unedited video, it's clear that Kimmel's segment was misleading and that the vice president wasn't "pretending to carry empty boxes of PPEs into a hospital." And Kimmel himself has now acknowledged that with a follow-up tweet.
If you have a claim you would like to see us fact check, please send us an email at factcheck@thedispatch.com. If you would like to suggest a correction to this piece or any other Dispatch article, please email corrections@thedispatch.com.