Did Mitt Romney Vote to Convict President Trump Because a Former Campaign Staffer Sat on Burisma's Board?
Evidence is lacking.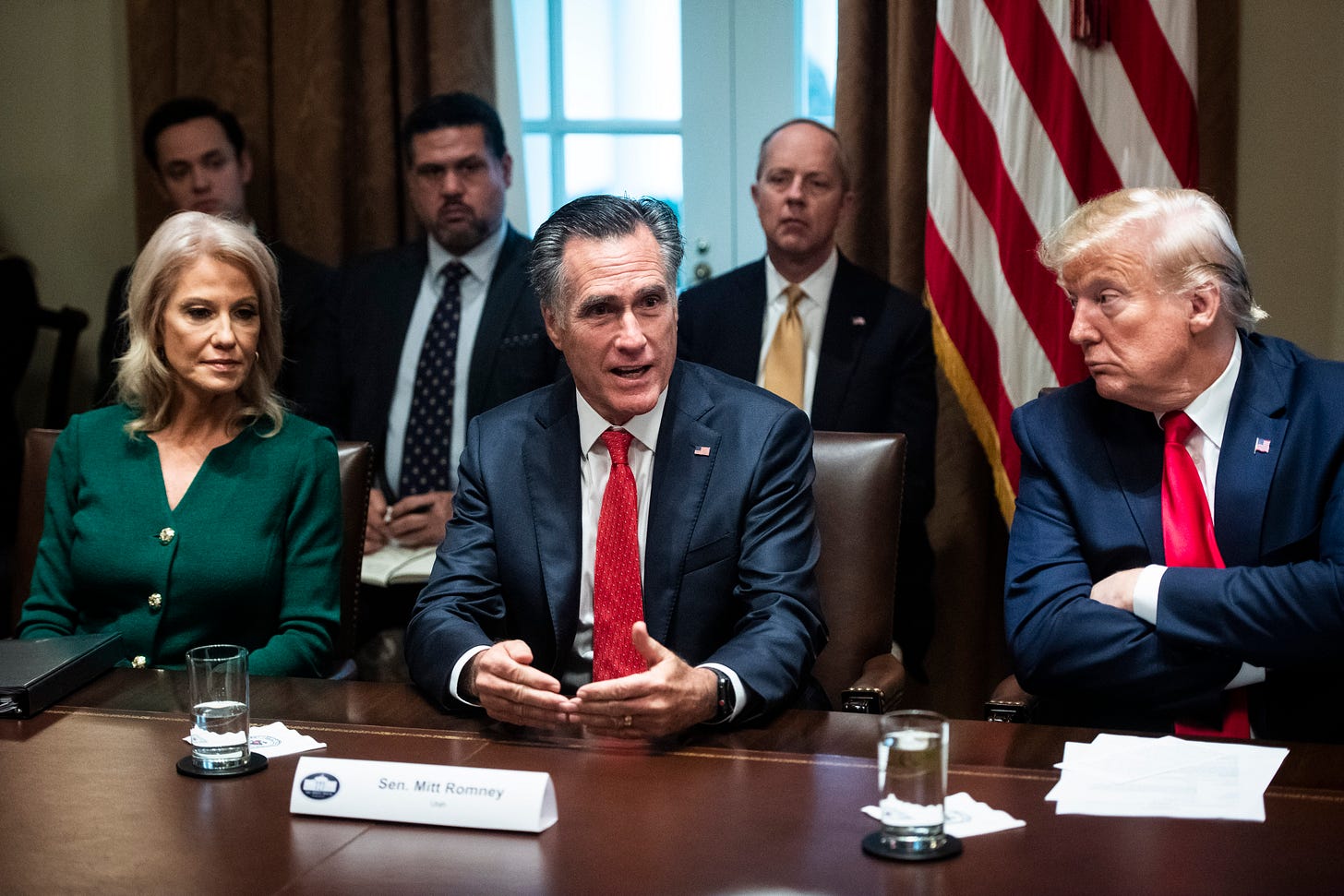 Since Sen. Mitt Romney became the only Republican to vote to remove Trump from office last week, the president and his allies have turned up the heat on the former GOP nominee.
"The wonderful people of Utah will never look at 'grandstander' Mitt Romney with anything but contempt & disgust," Trump tweeted.
Fox News host Jeanine Pirro was none too happy with the Utah senator's decision to vote to convict. "How dare he, how could he, and why would he?" she asked last Saturday. "You take non-evidence that the Democrats refused to present as the reason to convict the president, in an economy that is unparalleled, with a military whose strength is unequaled, with a population where 90 percent are happy with their lives? You really are stupid!"
Such responses are to be expected. Romney was, after all, the first senator in American history to vote to convict a president of his or her own party. But in recent days, a conspiracy theory targeting Romney has bubbled to the surface. And—perhaps not surprisingly—it involves Burisma, the Ukrainian energy company that paid Hunter Biden to sit on its board.
Mitt Romney's concern about Trump's behavior in Ukraine, the theory goes, was actually an effort by the Utah senator to cover up his own corruption, because a former aide to Romney's 2012 presidential campaign, Joseph Cofer Black, was appointed to Burisma's board of directors in 2017. 
Individually, two of those assertions are true. Joseph Cofer Black did have a minor role on Romney's 2012 campaign, and he is currently on the board of Burisma. But any insinuation beyond that lacks supporting evidence.
Elements of the theory originated back in September at the American Thinker, but resurfaced in the days following the impeachment trial, expanding in scope to include Romney's vote to convict. The president himself retweeted a graphic claiming one of Romney's sons is on the board of directors for an energy company doing business in Ukraine (there is no evidence of this), and another tweet alleging that "Romney is covering up his part in corruption in Ukraine" and that "the truth will come out."
Some of Trump's allies simply presented the various dots in this thread without explicitly connecting them (though the insinuation is clear). Others more explicitly hinted at corrupt intent on Romney's part.
Presidential campaigns—particularly ones ramping up for a general election—are massive organizations with hundreds, if not thousands, of staffers, advisers, and consultants. Trump himself was faced with the implications of this earlier in his presidency, when he took heat for the actions of George Papadopoulos, who, in Trump's own words, was just a "low level volunteer" on his campaign that "few people knew."
But now some in Trump's orbit are deploying the same tactics with Joseph Cofer Black to malign Romney. A spokeswoman for the Utah senator says he has not communicated with Black in nearly a decade.
"This is an absurd falsehood being pushed by online trolls," Liz Johnson told The Dispatch. "This individual was one of hundreds of informal policy advisers to the 2012 campaign, and he has not been in touch with the senator since that time."
David Kochel, a senior adviser on both of Romney's presidential campaigns, told The Dispatch, "Cofer Black had no discernible role in the campaign."
Asked if their position was that Sen. Romney's impeachment vote was influenced by his connection to Black, two separate Trump campaign spokespeople did not comment.
Photograph of President Trump and Sen. Mitt Romney by Jabin Botsford/Washington Post/ Getty Images.
If you have a claim you would like to see us fact check, please send us an email at factcheck@thedispatch.com. If you would like to suggest a correction to this piece or any other Dispatch article, please email corrections@thedispatch.com