Did Nancy Pelosi Request a Raise Through the CARES Act?
No.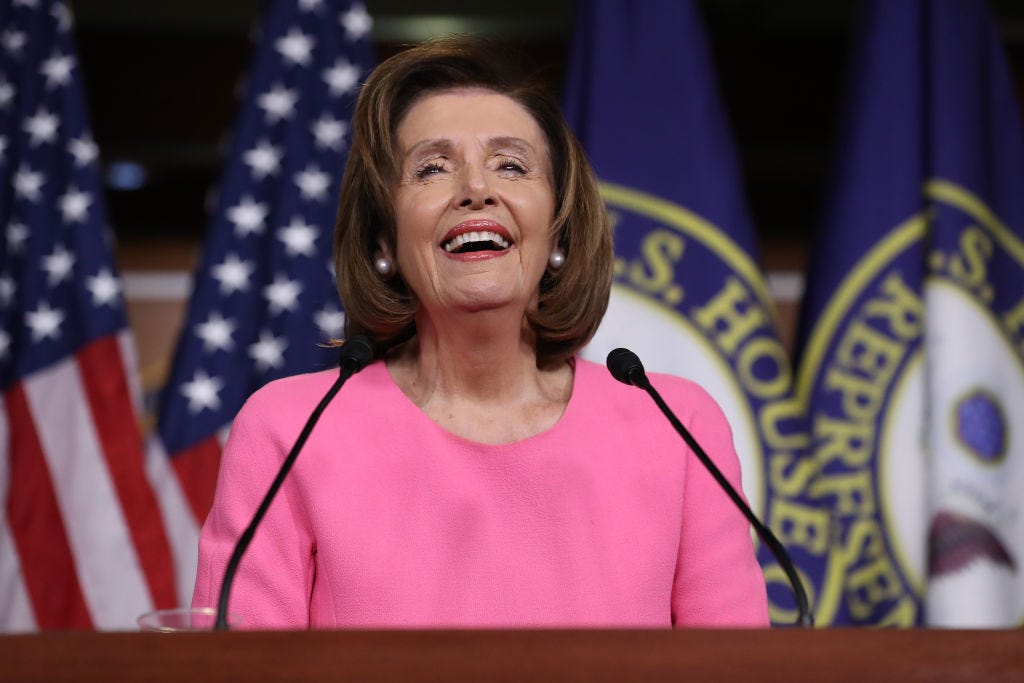 A popular Twitter account claimed that Speaker Nancy Pelosi requested a raise during the coronavirus crisis. The tweet received additional attention after being retweeted by President Trump on Tuesday.
In a later tweet, the twitter user provided further details, suggesting Pelosi had requested a $38,000 raise.
The first part of the tweet is accurate: President Trump donated his fourth quarter salary to the Department of Health and Human Services "to support the efforts being undertaken to confront, contain, and combat coronavirus." The claim about Speaker Pelosi, however, appears to be based on a misinterpretation of a provision of the CARES Act, which includes $25 million for "salaries and expenses" for the House of Representatives. (Similar language was included in the House version of the package, which was scrapped in favor of the Senate plan.)
Such claims went viral thanks to a few popular Facebook posts, most of which were ultimately taken down after being marked as containing false information by Facebook.
While the language in the act is broad, Evan Hollander, a spokesman for the House Appropriations Committee explained that "none of those funds will go to member salaries." Rep. Rodney Davis, the ranking member of the Committee on House Administration, also emphasized that the money was "never intended for Congressional or Member salaries" in a Dear Colleagues email and provided that the money would be allocated as follows:
$2 million for Office Supply Store computer purchases (front load revolving fund, will reimburse once paid for)

$8.8 million for MRA (estimated $20k each office) for laptops/video town halls

$2 million for Committees for laptops

$1 million for expansion of IT Customer Support ($1m) and purchase additional equipment for computer imaging ($500k). Would include 24-7 support.

$10 million Sergeant at Arms ($5m for emergency transportation; $5m for unforeseen emergencies)
Even so, the language in the bill itself does not limit the funds. But even without such limits built into the CARES Act, it is unlikely that Congress could allocate any of that money to its own compensation.
As helpfully explained in great detail by the Congress Research Service, Congress does determine its own pay under Article I, Section 6 of the Constitution, but thanks to the 27th Amendment, any change can't take effect "until an election of Representatives shall have intervened."
Since 1991, Congress has gotten its pay raise based on the Ethics Reform Act of 1989, which established a formula by which congressional pay changes are calculated. (The act ties their salaries to the private sector with a formula based on "the most recent percentage change in the Employment Cost Index minus one-half of one percent.") This same act also limits the amount of any given pay raise. This year the maximum potential salary increase would be capped at $4,500 per member.
The last pay raise was in January 2009 to its current amount: $174,000. In fact, Congress last denied itself a pay increase under this formula just a few months ago in December's appropriations bill.
Without any language specific repealing the Ethics Reform Act, which sets the pay formula and limits any single increase, it's hard to argue that Congress intended the funds in the CARES Act to go toward salary increases. And, even if they did, the 27th Amendment would prevent those increases from going into effect until the next Congress convenes in 2021.
Photograph of Nancy Pelosi by Chip Somodevilla/Getty Images.
If you have a claim you would like to see us fact check, please send us an email at factcheck@thedispatch.com. If you would like to suggest a correction to this piece or any other Dispatch article, please email corrections@thedispatch.com