Does Joe Biden Want to Ban Fracking?
His written climate plans have been consistent, but his rhetoric has, at times, created confusion.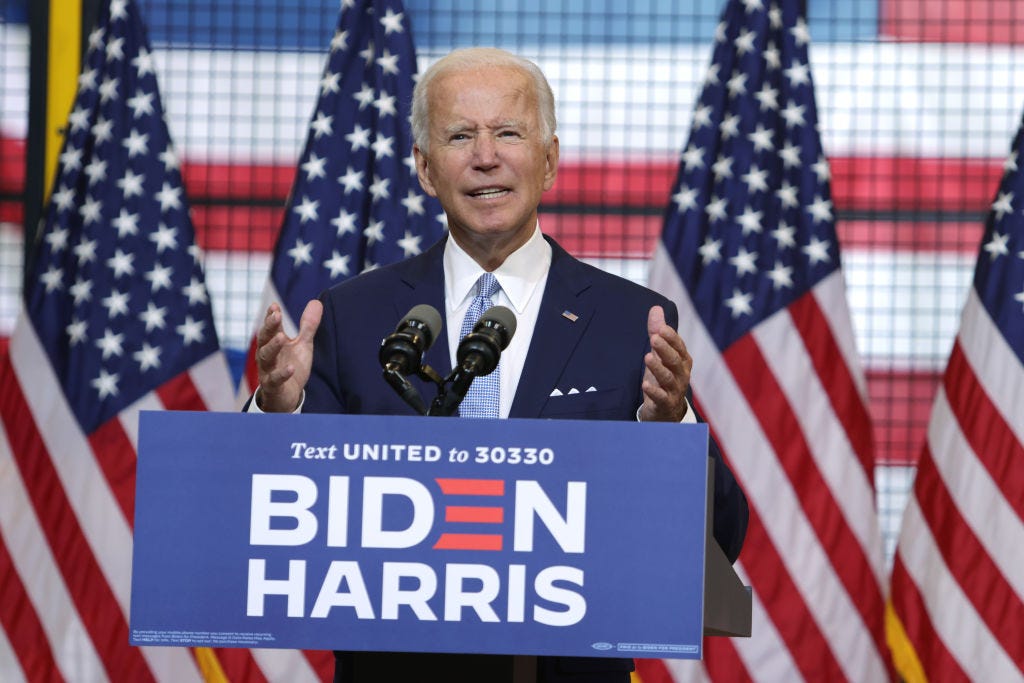 During the vice presidential debate on Wednesday, Vice President Mike Pence claimed on at least three occasions that Joe Biden and Kamala Harris are in favor of banning fracking. 
"They want to abolish fossil fuels and ban fracking, which would cost hundreds of thousands of American jobs all across the heartland," he said.
Harris came back with the following rebuttal:
"Joe Biden will not end fracking. He has been very clear about that."
President Trump later tweeted:
While it's true that Harris supported a ban on fracking during her own presidential campaign, Biden's position has not been as clear. Though Biden's written climate plans have been consistent, his rhetoric has, at times, created confusion on where he stands on eliminating fracking. There have been instances where he has suggested he might ban it, only to have his campaign later clarify his statements. 
 Fracking, or hydraulic fracturing, is the process of accessing oil and gas trapped in tight rock formations by pumping fluids at high pressures into the subsurface.
The important distinction in Biden's climate plan is that, while he would ban new fracking on federal lands, he would allow existing fracking operations on public land to continue. He would also allow both new fracking and existing fracking on private land.
Biden's climate proposal does not include a ban on fracking, but does state that he will: "lead through the power of example, by ensuring the U.S. achieves a 100% clean energy economy and net-zero emissions no later than 2050." 
Biden has repeatedly said that he does not support an outright fracking ban. 
In April of this year, during an interview for KDKA in Pittsburgh, Biden echoed his current plan, which would prohibit new leases on federal lands. "No, I would not shut down this industry. I know our Republican friends are trying to say I said that. I said I would not do any new leases on federal lands," said Biden. 
A few months later, at a CNN climate crisis town hall in September, Biden made clear that he had no intention of banning fracking. 
"Fracking has to continue because we need a transition," he said. "We're going to get to net zero emissions by 2050, and we'll get to net zero power admissions by 2035, but there's no rationale to eliminate right now fracking, number one."
There have been instances, however, where Biden's stance has seemed muddled. 
During a Democratic presidential primary debate in July, for example, Dana Bash from CNN asked Biden if there "would be any place for fossil fuels, including coal and fracking, in a Biden administration?"
In response, according to a transcript of the debate from CNN, Biden said: "No, we would—we would work it out. We would make sure it's eliminated and no more subsidies for either one of those, either—any fossil fuel."
Biden's campaign later clarified that Biden does not want to ban fracking. 
In March, during a Democratic primary debate, Biden's stance was unclear after he said: "No more—no new fracking." Biden's campaign quickly clarified that he meant he would only ban new fracking on federal land, consistent with his original proposal. 
Although there are ways a president can limit fracking, without an act of Congress, the president does not have the authority to stop fracking across the country, especially because much of it occurs on private land. 
If you have a claim you would like to see us fact check, please send us an email at factcheck@thedispatch.com. If you would like to suggest a correction to this piece or any other Dispatch article, please email corrections@thedispatch.com.
This fact check is available at IFCN's 2020 U.S. Elections FactChat #Chatbot on WhatsApp. Click here for more.
Photograph by Alex Wong/Getty Images.