Has Donald Trump 'Always Known' Coronavirus 'Is a Pandemic'?
That's not what his early statements on the outbreak indicate.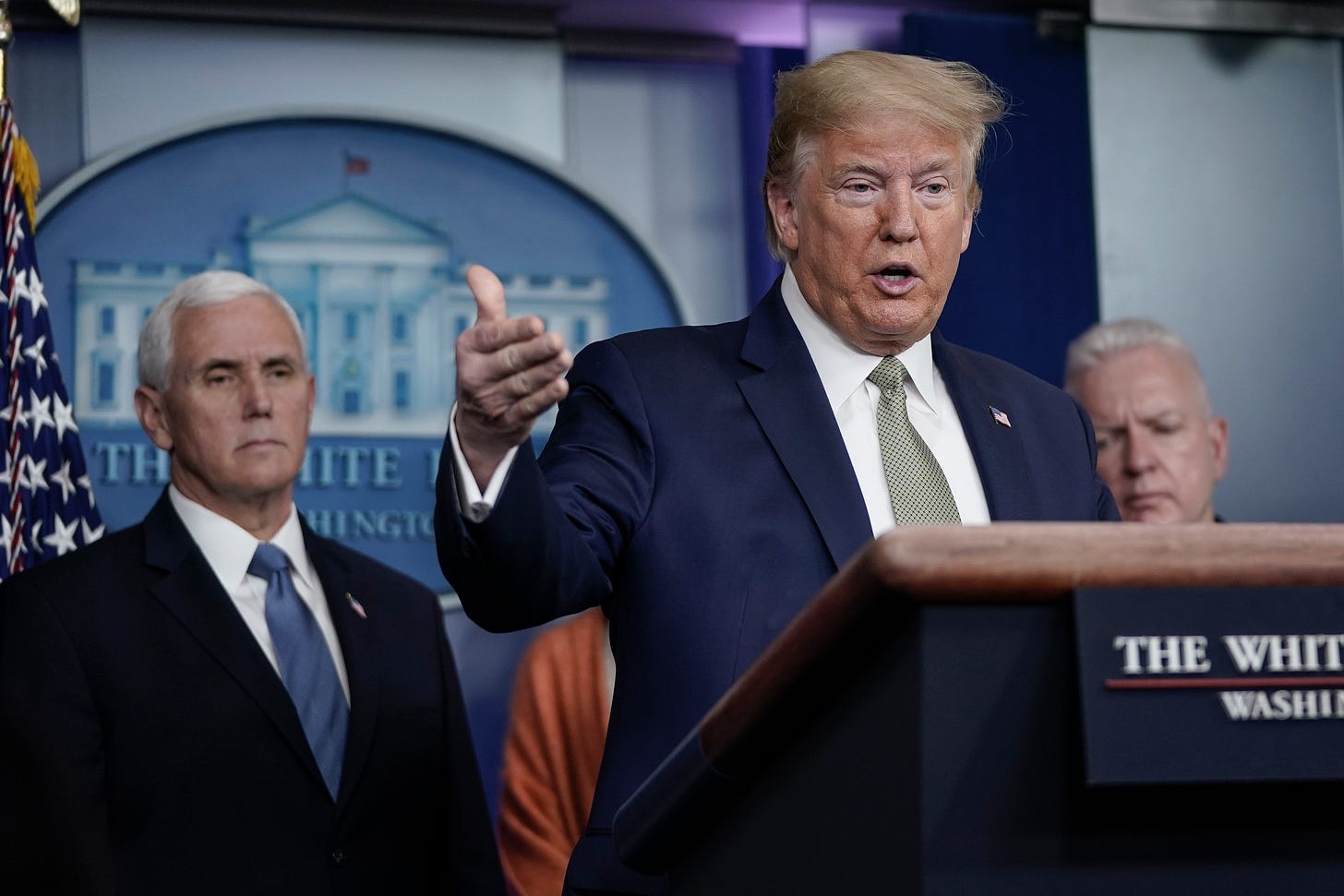 At a White House coronavirus task Force briefing on Tuesday, President Donald Trump claimed his tone surrounding the coronavirus has not changed.
"I've always known this is a real—this is a pandemic. I've felt it was a pandemic long before it was called a pandemic," said President Trump. "All you had to do was look at other countries, I think now it's in almost 120 countries all over the world. No, I've always viewed it as very serious, there was no difference yesterday from days before. I feel the tone is similar but some people said it wasn't."
He followed up with a tweet Wednesday morning, claiming, in part, "I always treated the Chinese Virus very seriously."
The president is lying.
The World Health Organization declared the virus a pandemic on March 11. Just the day before, President Trump downplayed coronavirus' impact by comparing then-current statistics to the common flu:
"Look, right now, I guess we're at 26 deaths, and if you look at the flu — the flu, for this year — we're at 8 mil- — we're looking at 8,000 deaths. And, you know, hundreds of thousands of cases, but we have 8,000 deaths. So you have 8,000 versus 26 deaths, at this time."
Many experts have pointed out that the lethality rate of the coronavirus makes it potentially much more serious than the common flu.
The president went on to claim "testing has gone very well. And when people need a test, they can get a test," despite the fact that the United States' coronavirus testing was set back by costly delays. He further argued that "we're prepared, and we're doing a great job with it. And it will go away.  Just stay calm. It will go away. ... It's really working out. And a lot of good things are going to happen."
In remarks before his now-infamous dinner with Brazilian President Bolsonaro on March 7, President Trump responded to a question about the coronavirus coming to Washington, D.C,. by saying, "No, I'm not concerned at all. No, I'm not. No, we've done a great job." Several attendees later tested positive for the virus.
On February 27, the president claimed, "we have done an incredible job.  We're going to continue. [The coronavirus is] going to disappear.  One day — it's like a miracle — it will disappear."
That statement came one day after  President Trump gave remarks alongside the coronavirus task force in which he discussed the coronavirus numbers in the U.S. "I don't think it's going to come to that, especially with the fact that we're going down, not up. We're going very substantially down, not up."
And on January 22, when CNBC anchor Joe Kernen asked Trump directly whether he was concerned coronavirus might become a pandemic, Trump said  he didn't think so. "Are there worries about a pandemic at this point?" Kernen wondered.
"No, not at all," Trump replied. "And we have it totally under control. It's one person coming in from China. We have it totally under control. It's going to be just fine."
David Leonhardt of the New York Times cited these examples and many other occasions the president has minimized the severity of coronavirus and the threat it poses. Despite President Trump's claim, it's clear that his tone has changed. If the president "felt it was a pandemic long before it was called a pandemic," he chose not to say so on many occasions, and, in fact, sent the exact opposite message to the American public. 
When the president claims he'd "always known" coronavirus was a pandemic and insists he has always treated it "very seriously" he is not telling the truth.
Photograph of Donald Trump and the coronavirus task force briefing the media on Tuesday, March 17, by Drew Angerer/Getty Images.
If you have a claim you would like to see us fact check, please send us an email at factcheck@thedispatch.com. If you would like to suggest a correction to this piece or any other Dispatch article, please email corrections@thedispatch.com