Was Trump Mimicking a Photo of Hitler When He Posed With the Bible?
No.
A number of Twitter users, including actress Debra Messing, accused President Trump of mimicking a photograph of Hitler when Trump posed with a Bible:
The graphic appears to have originated Tuesday morning with Twitter user @SGarrettRN, whose Twitter handle is watermarked in the upper lefthand corner of the image and who had shared the image in a since deleted tweet. 
The picture of Trump is accurate, taken Monday night when the president visited St. John's Episcopal Church, walking over from the White House after a speech for a photo op at the church that had been damaged during riots in D.C. the night prior. While the picture of Trump included in the tweet is unaltered, the picture of Hitler was doctored to place a book in his raised hand. The original image shows Hitler raising his right arm in a Nazi salute to the crowd he is walking through.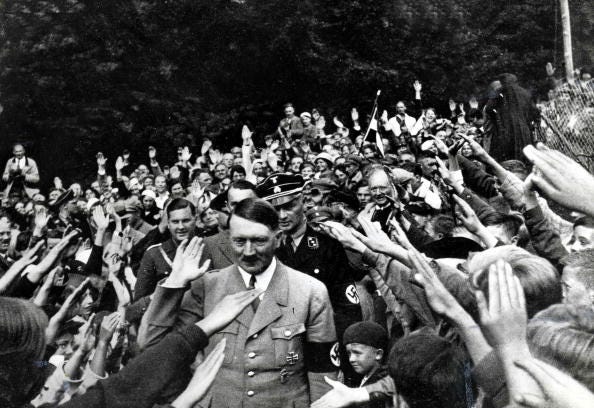 Photograph of Adolf Hitler by Popperfoto via Getty Images.